QR Code Ordering Flow For Table Service
Simplifying dine-in table service through QR code ordering & payments. (What to expect)
The benefits of mobile ordering & payments through a digital QR code menu:
Operate more efficiently with less staff.
Staff spend less time on menial tasks like bill printing & running payment terminals.
Staff can spend more time on quality guest interactions.
Guests spend no time waiting to order when ready.
Increased guest cheque average.
Turn more tables, more quickly.
1. Guests Scan Your QR Code
Diners open their camera, and scan a QR code located on the table.
A link will appear at the top of their phone, bringing the diner to your mobile friendly digital menu.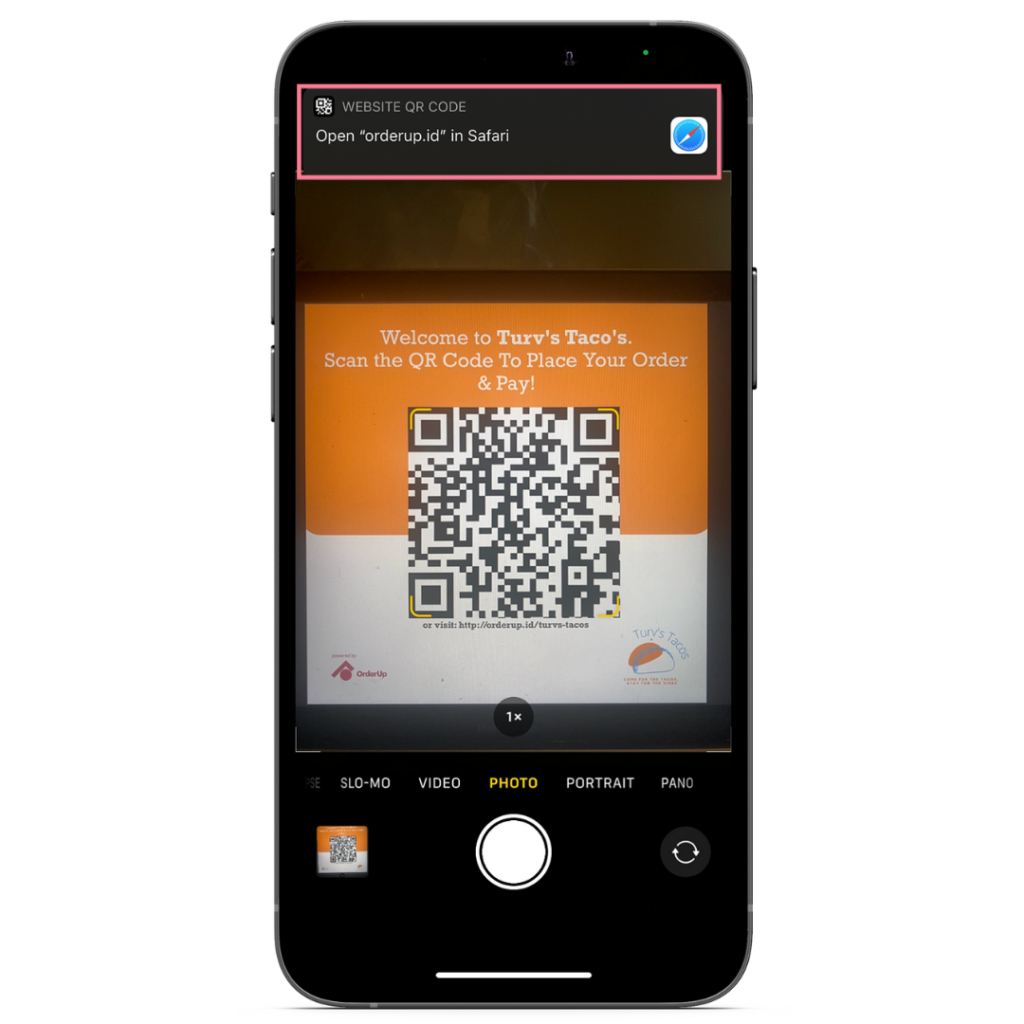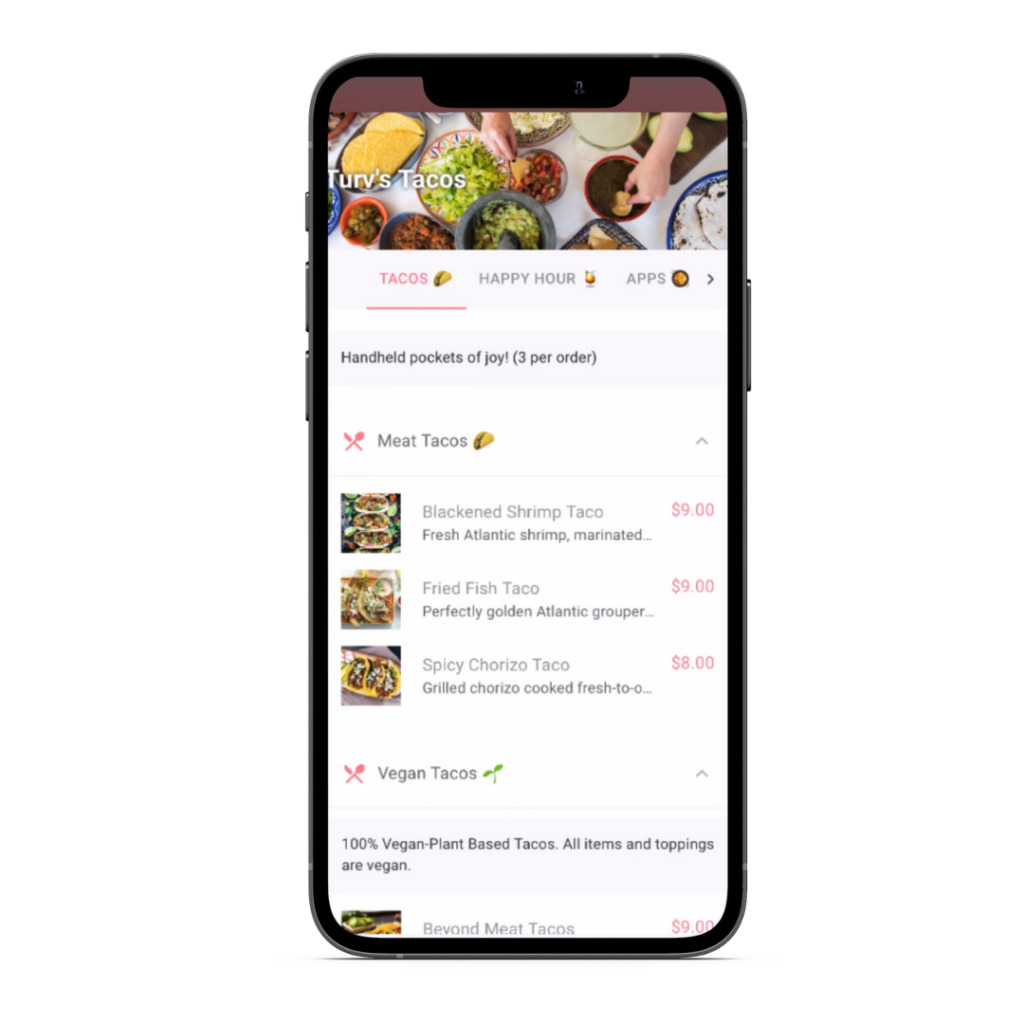 2. Guests Browse Your Restaurant's Menu
Our QR code menus are designed and optimized for mobile devices. This makes menu browsing seamless. 
Menus can be updated in real-time through your menu builder merchant backend.
3. Select Items and Modifiers
Each item can have as many, or as few modifiers as desired. These modifiers can be charged, free, optional, or required. 
There's also a comment box for any special requests or allergies to ensure every item that comes out is up to par.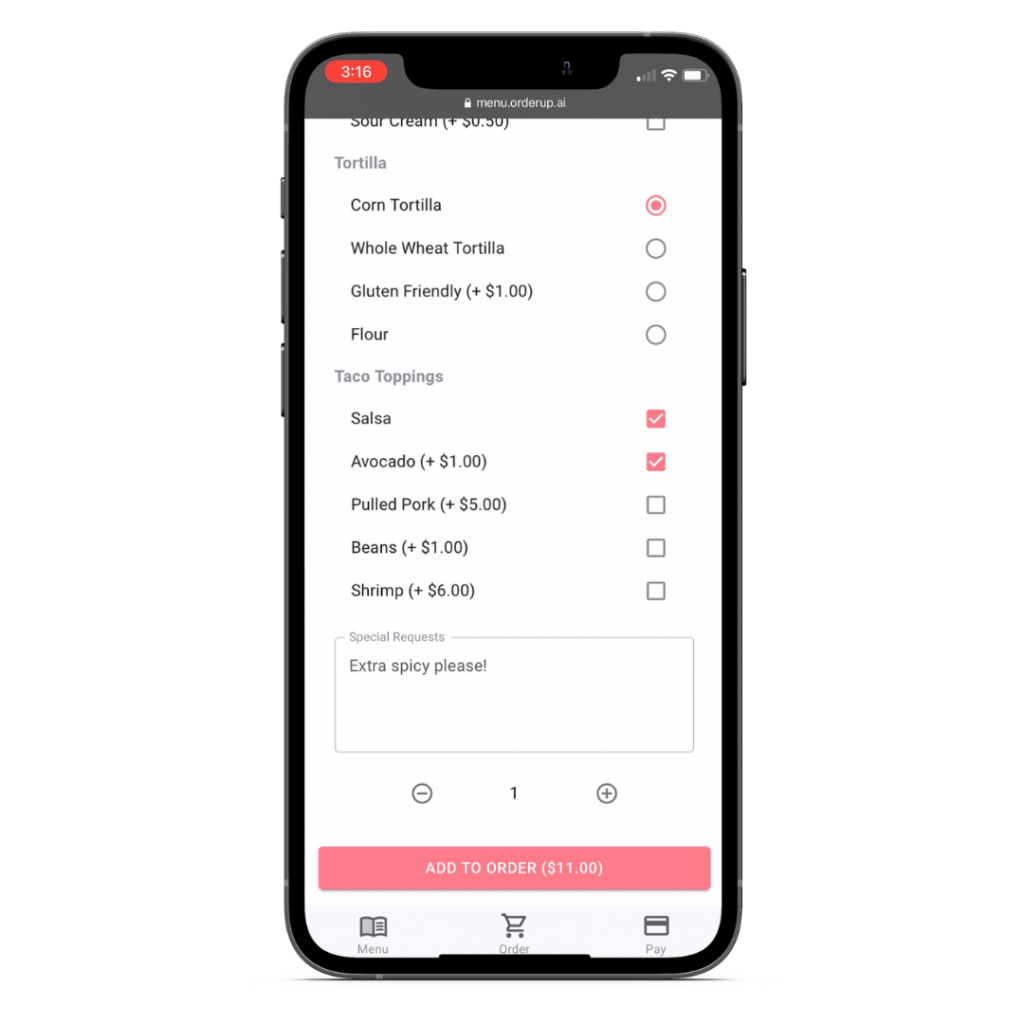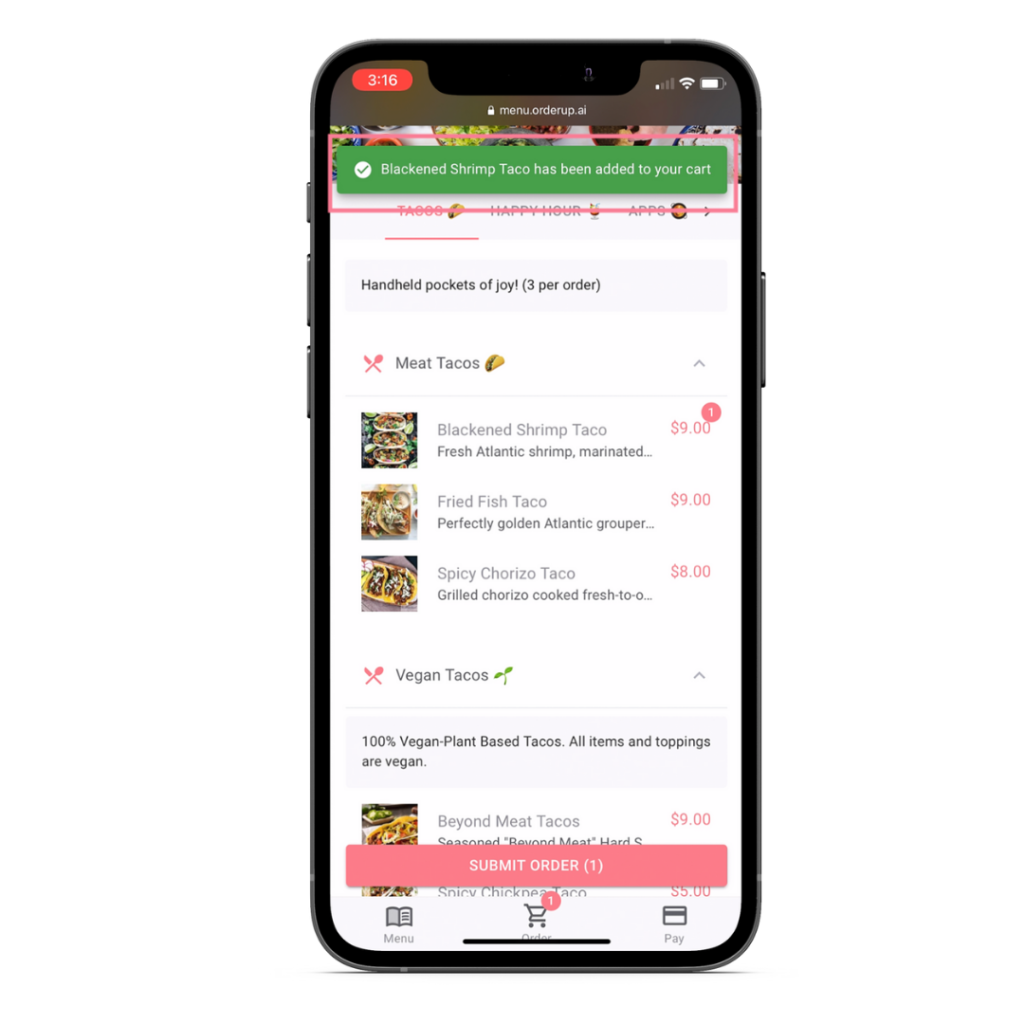 After an item is added, it will appear in the cart tab (middle tab at the bottom), and return the diner to the menu to order more food or drinks.
The guest is notified by a popup towards the top of their screen, and a number over the cart tab.
From the "Cart" tab, guests can review and place their order. As soon as the order is placed, it will appear on your restaurant's tablet or kitchen display system. There's a flashing alert with a sound that won't disappear until a member of staff interacts with the tablets.
The order is displayed by Table Number & Guest Name & Time the order was placed. Multiple guests will show on each table's ticket. 
*In the image below, the tablet shows 2 guests have ordered at table #10*
Staff are able to accept single items at a time, or confirm all pending, controlling when items are sent to the kitchen & the flow of service.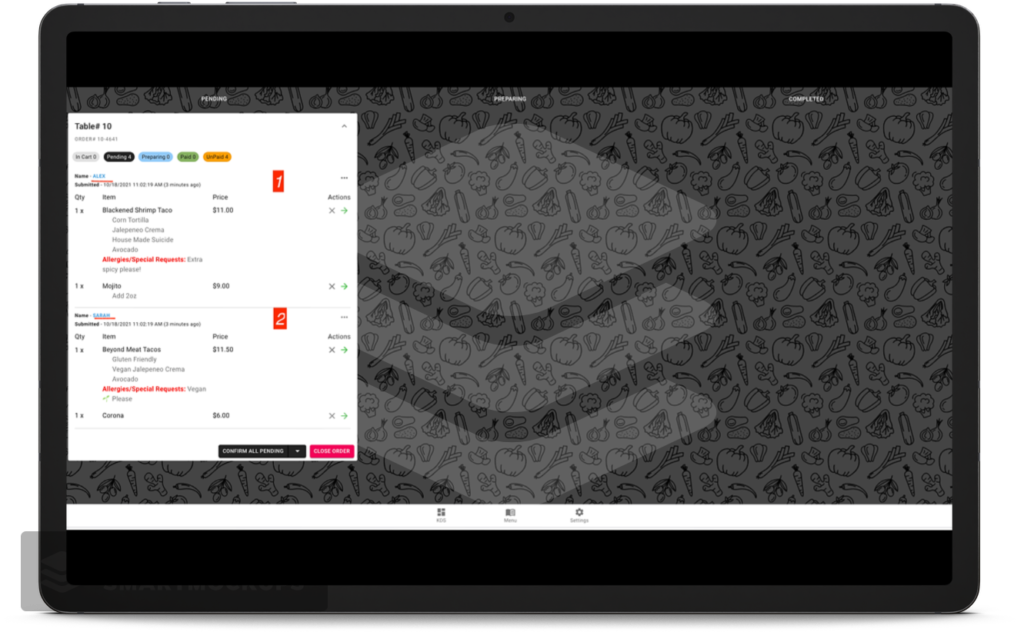 Once the order is reviewed, a staff member can confirm all or some of the items. Once confirmed, the ticket will move to the next column & a chit will print to the appropriate kitchen or bar printer. All items will remain in this column or ticket until the guest has paid.
See the short video below:
Guests are able to pay whenever ready. Bills can be reviewed and paid by clicking the Pay tab at the bottom right corner of the menu. 
We accept ApplePay, GooglePay and any Credit Card or Visa-Debit. 
Guests can also pay for other diners items or drinks at checkout.
9. Payment (Merchant Side)
On the tablet, any order or item that is paid for will move into the Completed column. Partially paid tables will appear in Orange & fully paid tables in Green. 
When the table is ready to flip, the order can be closed. See below: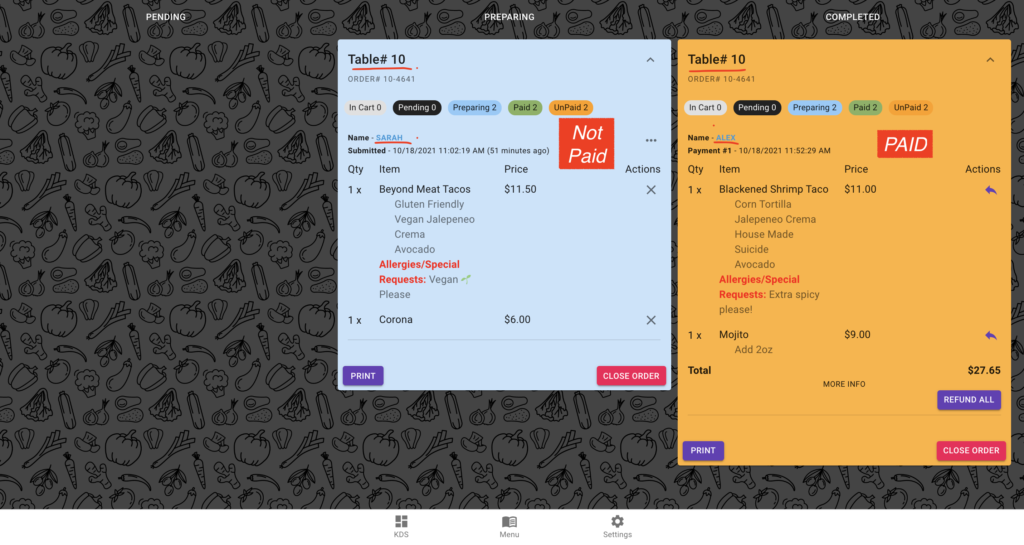 *Above: Partially paid table.
*Below: Fully paid table.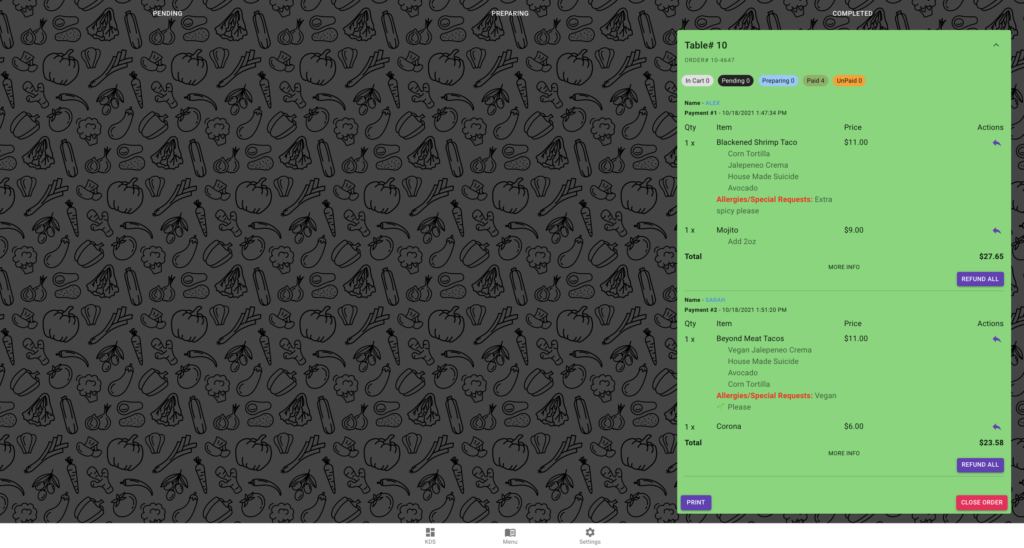 What If A Guest Wants to Pay by Cash?
In many cases, diners may rather settle up by cash, debit card or something else. In this case, we've added a "Pay External Cash" button. A staff member would manually enter the order into the existing POS, and cash the guest out. To reflect this in this OrderUp system: 
1. Click the 3 dots to the right of the guests name
2. Click "Pay External Cash"
The ticket or order will be reflected in the completed column in Green, showing that everyone at the table has paid up. 
By empowering your diners to Order and Pay from their phones, it unlocks tons of benefits for your restaurant.
This is just the tip of the iceberg. In the coming years, this type of service and technology will become the norm. It unlocks amazing opportunities for restaurants, and improves the dining experience for your guests.
QR Code Ordering Demo (in 4 minutes)